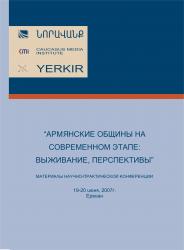 13.12.2007
Bulletin of Noravank Scientific Educational Foundation N 20, 2007
In the Bulletin #20 of "Noravank" Foundation are presented the reports voiced on June 19-20, 2007 at the international scientific-practical conference "The Armenian communities in the present stage: survival, perspectives."
The conference was organized by joint efforts of "Noravank" Foundation, Caucasus Media Institute and "Yerkir" Union of NGO's for Repatriation and Settlement.
In the articles presented are thoroughly discussed the present situation of a number of provinces in the Russian Federation and the Armenian communities in Caucasus, issues relating to tendencies and community prospective reported by specialists.
The publication is addressed to sociological, analytical and political circles, state bodies engaged in Armenia-Diaspora relations, social organizations, as well as wide circles of readers.
Gagik Harutyunyan
DIASPORA OR ARMENIANS? (in russian)
Alexander Iskandaryan
NEW TENDENCIES (in russian)
Edward Melkonyan
ANOTHER DIASPORA? ON THE CHARACTERISTIC OF THE ARMENIAN COMMUNITIES ON THE POSTSOVIET TERRITORY (in russian)
Victor Dyatlov
ARMENIANS OF RUSSIA: DIASPORIAN STRATEGIES OF INTEGRATION (in russian)
Victor Hakobyan
THE PROBLEMS OF ARMENIANS INHABITED IN THE STAVROPOLE TERRITORY (in russian)
Tigran Tavadian
THE ARMENIANS NATIONAL «HEARTHS» IN THE KRASNODAR TERRITORY (in russian)
Mikhail Savva
THE ARMENIANS OF THE KRASNODAR TERRITORY IN THE CONTEXT OF THE CURRENT MIGRATION SITUATION (in russian)
Tamara Vardanyan
THE ARMENIANS OF TBILISI. CHALLENGES OF THE TIME AND THE PERSPECTIVES OF THE COMMUNITY (in armenian)
Sergey Minasyan
THE ARMENIANS OF JAVAKHQ AT THE PRESENT STAGE: THE HOSTAGES OF HISTORY AND POLICY? (in russian)
Artavazd Tulumjian
THE PRESENT SITUATION OF HAMSHENIAN ARMENIANS IN THE PONTO-CAUCASIAN REGION (TURKEY, THE KRASNODAR TERRITORY, ABKHAZIA) (in russian)
Haykazun Alvrcyan
HAMSHENIAN ARMENIANS: AREAS OF INHABITATION AND THE MAIN PROBLEMS (in armenian)
Mikhail Aghajanyan
DEMOGRAPHIC CHALLENGES OF THE REPUBLIC OF ARMENIA AND THE REPATRIATION OF ARMENIANS (in russian)
Robert Tatoian
REPATRIATION AS A NEW DIRECTION OF THE REPUBLIC OF ARMENIA'S STATE POLICY (in armenian)
OUR AUTHORS (in russian)