2005(5)
2004(2)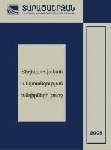 13.09.2005 "Region" (special issue)
The special issue of the bulletin "Region" is devoted to the problems of informational security. The articles published in the issue touch upon the problems of informational and spiritual security threats and challenges, the influence of informational technologies on the person's subconsciousness, political propaganda processes modeling. There is also published Hayk Demoyan's research article devoted to propaganda and antipropoganda organizing problems in the context of Nagorno Karabakh settlement processes.
---
08.07.2005 "Region" N 4, 2005
In the articles of this issue are represented the parliamentary elections in NKR held in June, political developments in Azerbaijan, the activities of Georgia's opposition, new realities around the nuclear program in Iran, besides two articles are devoted to the new world order of the XXI century and the sceneries to develop transatlantic relationships.
---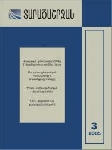 27.05.2005 "Region" N 3, 2005
In this issue is paid a special attention to the electoral system of Armenia's three neighbor countries-Georgia, Iran and Turkey. The represented articles relate to Georgia's internal political processes after the revolution in 2003, some peculiarities of Turkey's party and electoral systems as well as Iran's presidential elections on the 17th of June in 2005.
---
13.03.2005 "Region" N 2, 2005
The articles in this issue relate to the general military political description of South Caucasian three countries-Armenia, Georgia and Azerbaijan, together with description of the social character of Tbilisi, Baku and Yerevan.
---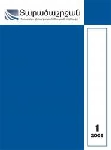 10.02.2005 "Region" N 1, 2005
The current situation on Iran's nuclear program is one of the hot topics not only in the Near-Eastern but also in international politics. As a matter of fact almost any development of the "situation in Iran" will have an influence on global policy. In this context the possible usage of military forces agains Iran becomes more actual.
---
18.10.2004 "Region" N 4, 2004
In this issue are touched upon the military-political situation in Caucasus and the ongoing developments. Here are represented the latest aggravations of Georgia-South Osetia conflict, the analyses of Ahmad Kadirov's assassination, the events in Ingushia in June and the incident in Beslan. You can also read the translated version of an article concerning to today's social economic situation in Azerbaijan, some political and ethnopsycological problems.
---
13.09.2004 "Region" N 3, 2004
Iran's nuclear program has recently become one of the most important elements of international politics and the developments concerning to it can have a serious influence both on Near Eastern and international politics. The issue is completely devoted to Iran's nuclear program and the international-political situation shaped around it as well as to Russian-Armenian cooperation in the nuclear sphere.
---