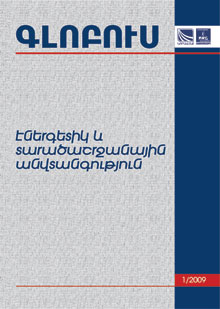 11.03.2009
«GLOBUS ENERGY AND REGIONAL SECURITY», ISSUE 1
"Noravank" Foundation issued
the first number of "Globus Energy and Regional security" journal for 2009

(in armenian)
, devoted to the energetic and political developments in Armenia and the region.
The journal is published together with CJSC "ArmRosGazprom" and is the only printed publication in Armenia, devoted to the regional energetic developments.
The purpose of the journal is to unify the analytical resource of Armenia for the professional study, adequate analysis and prognosis of the regional energetic and relating processes going on in Armenia and in the region.
Some materials from the journal will be placed on our site.
Subscription:
www.pressinfo.am
, Haymamul
Online sale:
www.pressinfo.am
Purchase:
"Noravank" Foundation
Address: 23/1 Garegin Njdeh, Yerevan,
Phone:+374 10 44 04 73, +374 93 54 31 71