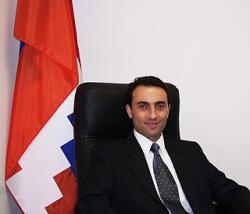 18.09.2008
AVOIDING MORE SUFFERING IN THE CAUCASUS
Yesterday, the Wall Street Journal published NKR Representative Vardan Barseghian's letter to the editor in response to an article on recent events in the South Caucasus and prospects for peace. NKR Representative said in part:
As civilians came under indiscriminate shelling last month in South Ossetia, uneasy memories were rekindled for many of us in the Caucasus who lived through the wars of the early 1990s.
As Thomas De Waal correctly mentions ("Caucasus Burning," editorial features, Aug. 19) if a new war breaks out in Nagorno-Karabakh -- read: if Azerbaijan attacks Karabakh -- it could result in even greater suffering and regional destabilization than what we have observed in Georgia.
If last month's tragedy is to become an effective lesson to the international community, we hope to see immediate, focused diplomacy to rein in Azerbaijan's aggressive posturing over Karabakh, condemnation of its officials' hate mongering, and implementation of existing agreements to strengthen the cease-fire. These steps could put our region on the path toward demilitarization and peace.
My country has repeatedly asked Azerbaijan to commit to nonuse of force and to implement confidence-building measures along the Line of Contact and, more broadly, between the two publics. Azerbaijan continues to refuse any such steps -- even cooperation on fighting natural disasters.
We know that the United States shares our view that the Nagorno-Karabakh conflict can only be resolved through peaceful means. Any settlement will be effective if it clearly reflects the realities on the ground and is based on the expressed will of the Nagorno-Karabakh people to live in freedom. We hope the United States and the other international mediators will not miss this opportunity.
Vardan Barseghian
Representative of the Nagorno-Karabakh Republic
Washington
September 17, 2008
The Wall Street Journal Europe
Wednesday, September 17, 2008
http://online.wsj.com
Return