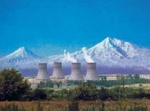 27.09.2012SIGNIFICANCE OF NUCLEAR ENERGY FOR ARMENIA
Sevak Sarukhanyan
In the years to come building of a new power generating unit of Metsamor Nuclear Power Plant will be one of the main political and economic challenges for Armenia. The power generating unit, which will cost about $5 billion, will be most expensive and most important economic programme in the history of the Republic of Armenia, and its significance should be considered not only in economic but in political aspect either.
---
24.09.2012PARLIAMENTARY ELECTIONS: GEORGIA AHEAD OF THE CONTROVERSIAL EVENT
Sergei Minasyan
This autumn Georgia will face serious political challenge – regular and very important parliamentary elections will be held. On August 1, 2012 the president of Georgia Mikhail Saakashvili appointed the day of parliamentary elections. According to law they should be held in 60 days, i.e. on October 1.
---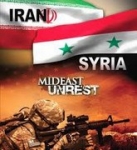 18.09.2012SYRIAN CRISIS AND IRAN
Artashes Ter-Harutyunyan
At the end of August Iran stated that its armed forces were participating in the civil war in Syria. "We are involved in all kinds of combat actions [in Syria]", stated general Salar Abnush – the commander of "Sahib al-Amr" unit of the Army of the Guardians of the Islamic Revolution – at his meeting with the journalists.
---
13.09.2012FRENCH-ARMENIANS SHOULD WELCOME ALIYEV IN PARIS AS 'CHIEF HATCHET MAN'
By Harut Sassounian
When Pres. Ilham Aliyev arrives in Paris on September 18, thousands of French-Armenians should greet Azerbaijan's leader with posters depicting him as 'Hatchet Man-in-Chief' -- 'Bash Baltaji' -- holding a bloody axe. Interestingly, in all three languages -- Azeri, Hungarian, and Turkish -- 'balta' means hatchet or axe.
---
06.09.2012ACTIVITY OF THE ARMENIAN EVANGELICALS IN ARTSAKH
Tigran Ghanalanyan
Artsakh has been a stage for the activity of the Armenian Evangelicals for about two hundred years. In both pre-Soviet and post-Soviet periods the Evangelicals played and still play considerable role there.
---
05.09.2012HUNGARIAN/AZERI SCANDAL VINDICATES ARTSAKH'S QUEST FOR INDEPENDENCE
By Harut Sassounian
Armenians worldwide are outraged by Pres. Aliyev's pardon following the Hungarian government's release of Ramil Safarov -- an axe-wielding Azeri Lieutenant who hacked to death Armenian officer Gurgen Margarian in his sleep, while attending a 2004 NATO course in Budapest.
---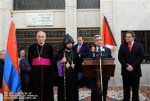 03.09.2012THE GROUNDS OF INTER-CONFESSIONAL COOPERATION IN THE DIASPORA
Arestakes Simavoryan, Vahram Hovyan
One of the main goals of the study of the different confessional segments of the Armeniancy is the revelation of the efficient mechanisms of consolidation of the national potential.
---
03.09.2012TIME FOR ACTION: SYRIAN-ARMENIANS NEED YOUR URGENT ASSISTANCE
By Harut Sassounian
There has been too much talk about the tragic crisis in Syria by self-described analysts and experts who have managed to spread misinformation, while inadvertently jeopardizing the safety of the Armenian community.
---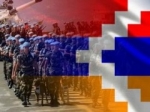 02.08.2012SOME ASPECTS OF THE DEVELOPMENT OF MILITARY AND POLITICAL SITUATION ROUND THE NAGORNO-KARABAKH CONFLICT
Sergei Sargsyan
Currently military and political situation round Nagorno-Karabakh conflict is mainly characterized by a general influence of the following factors: Combat readiness and fighting capacity of the armed forces of the conflicting parties, sustaining of the acceptable balance of offensive/defensive arms between them...
---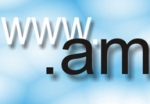 30.07.2012DEVELOPMENTS OF ARMENIA'S SEGMENTS OF THE INTERNET
Samvel Martirosyan
Over the last years the Armenian segment of the world web shot up dramatically. An unprecedented increase in numbers of users brought to the situation when Armenia took leading positions among the CIS countries.
---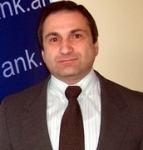 26.07.2012 "IT IS NECESSARY TO RAISE ENERGY EFFICIENCY", - says the deputy head of the Center for Political Studies of "Noravank" Foundation Sergei SARGSYAN in his interview to "Golos Armenii"
- Mr. Sargsyan, how do you assess the condition of the energy security of Armenia? What is the role of "Armrosgazprom" in its ensuring?
---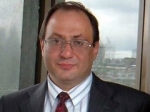 17.07.2012DEMOGRAPHICS IN INFORMATION AND PSYCHOLOGICAL WARFARE: SOUTH CAUCASUS
Ara Marjanyan
Currently South Caucasus region is in an ongoing information and psychological warfare. One of its characteristics is the systematic misrepresentation of demographic statistics and wide use of distorted data to carry out psychological warfare.
---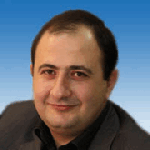 12.07.2012ABOUT THE EDUCATIONAL PROBLEMS OF TURKEY'S ARMENIANCY
Ruben Melkonyan
Education has always had a great importance in the Armenian lives; around the world, Armenians have founded and developed their national schools. Armenian community of Istanbul (called Bolis by Western Armenians) also traditionally valued education and it was no mere chance that by the end of the 19th century there were 90 Armenian schools in Bolis, of which 40 community-based and 50 private ones.
---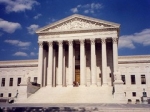 09.07.2012US SUPREME COURT MAY HEAR FIRST EVER ARMENIAN GENOCIDE-RELATED LAWSUIT
By Harut Sassounian
For the first time, a lawsuit indirectly involving the Armenian Genocide is being appealed to the U.S. Supreme Court. Since its initial filing in 2003, various federal courts have taken conflicting positions on this lawsuit.
---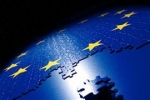 03.07.2012THE EUROPEAN UNION: NEW TENDENCIES
Gagik Harutyunyan
The European Union, which includes 27 countries and has population of over 500 million, is the biggest economy in the world (at current prices the GDP of the EU is $16.4 trillion, which constitutes 28% of the world GDP). At the same time this union has appeared in rather difficult political and economic situation.
---
Analytics 61 - 75 of 571
First page
|
Prev
|
1
2
3
4
5
6
7
8
9
10
11
|
Next
|
End
|
All